Homes in Harmony, Habitats Restored
Sustainable development in Costa Rica is a central commitment of Tierra Pacífica. The master plan for the project was designed in accordance with the local topography and ecology – working with nature rather than against it. At the core, this required us to forge a special relationship with two critical and interrelated resources: Water and Land.
Water
Helping recharge the local aquifer and improving area water quality – the availability of fresh clean water is incredibly important to residents of Guanacaste, Costa Rica. Many area developments have failed because they do not have access to enough potable water because of poor planning, depleted water tables through overuse, and the encroachment of sea water into existing wells. Luckily Tierra Pacifica is situated atop one of the deepest natural aquifers in the region, and we take pride in helping to maintain this crucial natural resource. We even helped to start a non-profit organization dedicated to this mission: www.ourwatershed.org.
Tierra Pacifica is among the first significant residential developments in Latin America to retain nearly all storm water on site through a combination of natural and man-made wetlands. Wetlands enhance wildlife and plant habitat, hold water back for use in the dry season and rejuvenate the precious underground aquifer.
Tierra Pacifica is also an active supporter of Restoring Our Watershed (ROW) a registered 501c3 non-profit organization founded by managing partner Will Raap. ROW's mission is to help restore the 28,000 acre Nandomojo river valley watershed that Tierra Pacifica is located within back to ecological productivity after decades of overgrazing and deforestation. Reforesting degraded pasture lands and watercourses will improve water retention rates and soil quality while also expanding habitat corridors for the local fauna. We invite you to learn more about ROW's innovative work to improve the health and resiliency of these natural areas as well as ROW's related focus on creating local green jobs in the realm of sustainable food production at www.ourwatershed.org.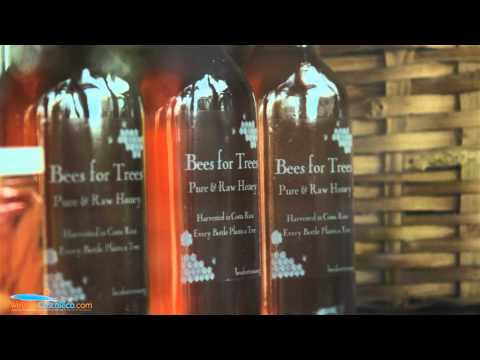 District Watershed Map
The Land
Regenerating soils, habitat and biodiversity – Tierra Pacifica is the first Costa Rican real estate development with an integrated ecological landscaping plan and habitat restoration program supported by an onsite native plant nursery and organic matter composting program. These efforts represent a long term commitment to protect and improve soil quality, regenerate native flora, and increase the health and diversity of resident fauna.
Tierra Pacifica's Key Sustainable Features

1. Roads were designed to slow, percolate, and control torrential rain waters
-using swales, check dams, percolation pits, native plantings, natural river rock water passageways, permeable stone retaining walls
-will significantly reduce future maintenance on roads
2. 40% of the total property is a protected green zone reserve that can never be built upon
-this is the ecologically richest part of the property, including all waterways, oldest growth trees, densest jungle, mangrove estuary, and migratory bird grasslands
3. Reforestation and Forest Management
-we have planted over 1500 trees covering dozens of native species
-we are staking and protecting thousands of natural and native growths as well
-we maintain clean fence lines and interior paths for fire protection
4. Important Nandomojo Aquifer recharge zone. The majority of rainwater runoff falling on Tierra Pacifica property is captured by water control and natural percolation systems, Tierra Pacifica Lake, or our organic orchard and farm lakes before it can escape the property
5. Club Arbol swimming pools and Jacuzzi use a natural saltwater filtration system
– more ozone-friendly than chlorine
– also reduces future maintenance costs and eliminates the need for strong cleaning chemicals
6. Club Arbol  hot water for Jacuzzi and changing rooms are heated through solar panels
7. Our organic orchard and farm grows quality fruits and vegetables as well as offers community coop farming and educational courses
8. Covenants Codes and Restrictions (CCR´s) protect the ecological integrity of the project
9. Homeowner Association (HOA) fees cover a full-time gardening crew to maintain all communal areas
-includes all green zones,  perimeter property lines, waterways, roadside retaining walls and rainwater controls and  plantings
10. Architectural Review Committee must approve and advise all buildings, septic systems, driveways, retaining walls, tree removals, boundary setbacks, rain water runoff areas and any other ecologically related issues
11. Project landscaping is designed to blend with native flora and local, dry tropical forest zone; drought tolerant plantings; water efficient, drip irrigation systems are used wherever possible
12. We support and practice "green" building
-use primarily local building materials
-design for natural cooling, illumination, and ventilation
-fully organic septic systems
-majority of woods utilized are reforested teak and gmelina