Our Mission for Tierra Pacifica and Sustainable Real Estate Development in Costa Rica
Tierra Pacifica is a unique green community nestled in the foothills and overlooking the Pacific Ocean in Guanacaste, Costa Rica. We aim to provide an ideal place for everyone from retirees to young families – an ecological neighborhood where foreigners and Costa Ricans can enjoy an exceptional quality of life while having a minimal impact on the landscape.
While discussing our overall goals for this very special 220-acre parcel, the first question we asked was "How can we develop this beautiful piece of land while adding value to the local community, maintaining the natural integrity of the land, and also maximizing the quality of life for the new owners?" Our second question was, "How do we establish and maintain a green community where the ideals we live by are shared with those we will live with?" This required slowing down for just a moment and reflecting on how we can truly live in harmony with our environment. We believe Tierra Pacifica, a Costa Rica environmental development that balances a high standard of living with innovative environment-enhancing design, is the answer to these questions.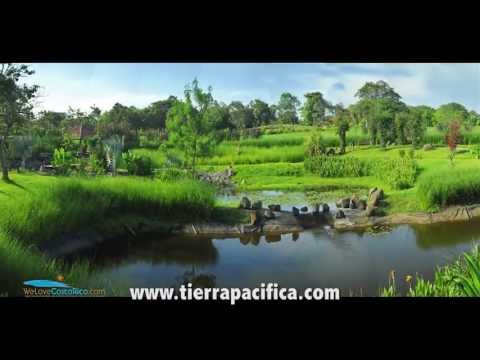 Vision
The vision of Tierra Pacifica echoes the land, the people and the spirit of Costa Rica. It is a vision that seeks to enhance rather than disrupt and to simplify rather than complicate. Our desire is to preserve a way of life and a natural environment that is dear to our hearts through sound, ecologically responsible development practices, while ensuring that community members maintain a superior standard of living.
Spearheaded and conceived by some of the leaders in Costa Rica environmental development, Tierra Pacifica is Costa Rica's premier residential "green community" that employs the most innovative approaches to sustainable development consistent with the local climate.
A Green Community
Tierra Pacifica was born out of a collaborative effort between experts in sustainable business and ecological design. The property was specifically chosen due to its unique geographic attributes. The development lies at the intersection between productive farmlands and a biologically diverse and permanently protected mangrove estuary. The project is overlaid with a sustainable business philosophy that views ecological development as being key to the region's economic future. The unique synergy of place, time and leadership provided a rare opportunity to develop an ocean view green community where our efforts are both supported and encouraged.
We believe that our residents want to watch a troop of monkeys frolic through the trees, enjoy the restored native landscape transition through the seasons, and receive a basket of fruits and vegetables harvested from our onsite organic orchard and farm while being comforted by the fact that the water they are drinking and the air they are breathing is among the finest on the planet.

Unique Environmental Design Features
We consider things normally neglected among the most important, like retaining 99% of the existing trees to create a nature corridor and planting thousands more native trees, thus ensuring that a troop of howler monkeys will likely pass by your door or a flock of parrots will continue roosting in your back yard. Or, being the first development in Latin America to design surface and storm water management systems to clean, retain, and absorb precious water on site, recharging the local aquifer. Tierra Pacifica is one of the first significant Costa Rica environmental communities in Latin America with an on-site conservation nursery, landscaping plan and habitat restoration program to protect and improve soil quality, regenerate native flora, and increase the health and diversity of resident fauna.
Architecture and Design
Throughout Tierra Pacifica, buildings are crafted from exquisite local and natural materials and classic design techniques that draw extensively from Spanish architecture – this is clearly evident in the design of our 5,000 square-foot community center known as "Club Arbol."
The design of our community draws from the expertise of many seasoned professionals whose collective goal is to make a difference by setting and defining the standard in ecologically responsible residential design while respecting local needs and conditions. So you'll find that in our corner of Guanacaste, Costa Rica environmental planning is the cornerstone of their work for our green community. As the years pass we have enjoyed how these "Creative Minds" established a foundation and standard of excellence in both community design and a lifestyle that can only be described as "Pura Vida."
Location
Located in the Northwest province of Guanacaste, and bordering beautiful Playa Junquillal (Hoon-Kial) on the Pacific Ocean, Tierra Pacifica sits at the heart of Costa Rica's storied "Gold Coast." Home to one of the richest biodiversity densities on the planet, the region of Guanacaste, Costa Rica offers vast swaths of national parks, forests, volcanoes, hiking trails, pristine beaches with warm water and an unparalleled population of flora and fauna.
Nestled on a graduated plateau, this environmentally planned community encompasses 220 acres with several distinct natural boundaries, including the critical wetlands and the tidal estuary forming the mouth of the Rio Nandamojo, the foothills of the surrounding Vista Del Mar Mountain Range and the black and white sand beaches of Playa Junquillal and Playa Blanca. The natural habitat consists of golden rolling hills during the summer dry season (December through May) and lush tropical forest during the winter green season (June through November), offering residents two distinct seasons, each teaming with biological diversity so common in Guanacaste, Costa Rica.
When you enter our green community you enter a domain of nature, where plants dance in breeze-swept hills, the ocean sparkles in the sunlight and exotic scents help to relax stress-wrought thought. Roads follow natural sweeping terrain, homes peak out from amidst clusters of tropical plants, and sea air reinvigorates.